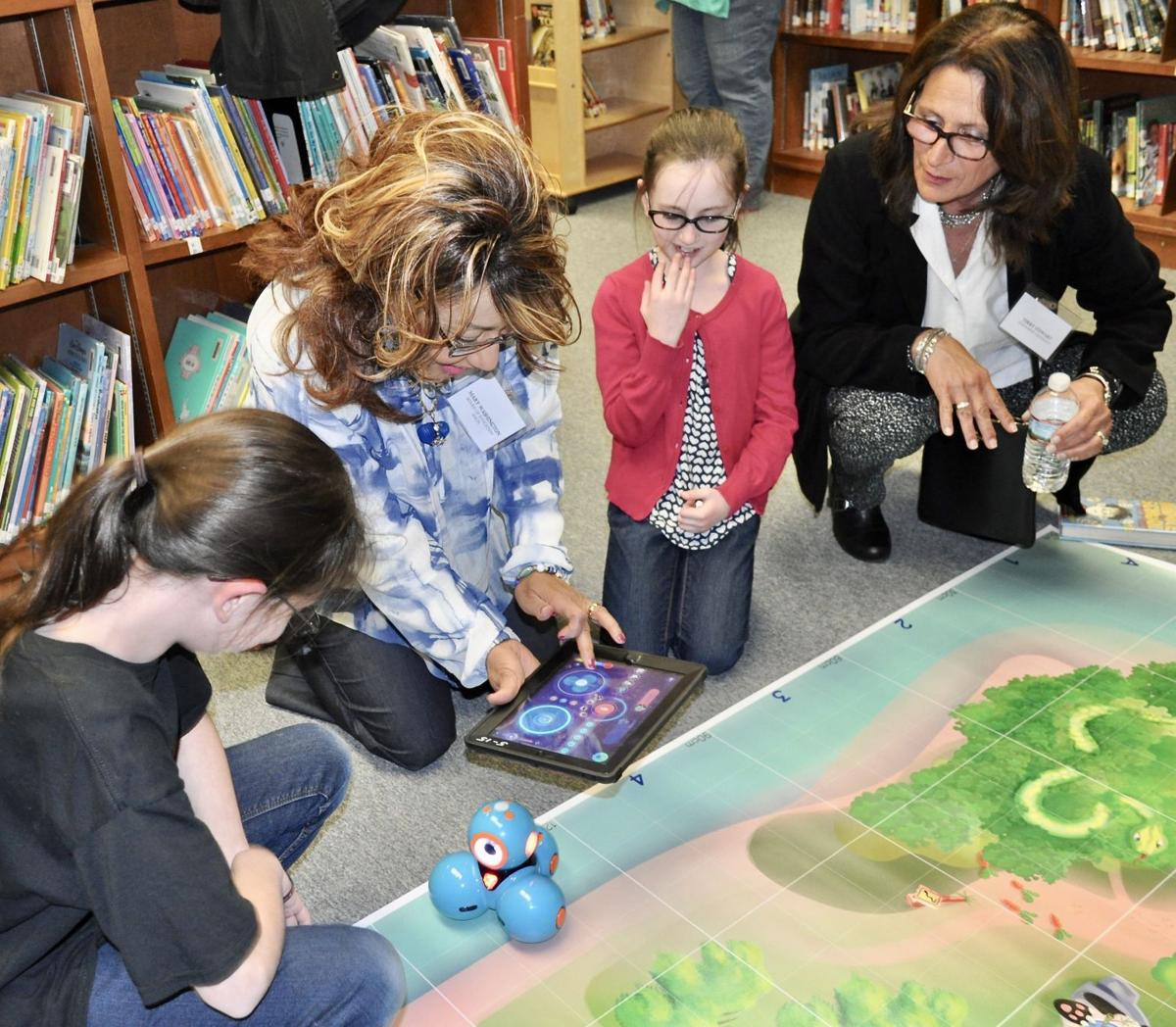 During a demonstration of Mobile STEM Learning Boxes, Ridge Elementary School robotics team members teach St. Mary's school board vice chairman Mary Washington and Terri Stewart to use a Dash and Dot robot from the Mobile STEM Boxes, which will be available to all St. Mary's County public elementary schools beginning in September.
Thanks to Ridge Elementary School's robotics team, other St. Mary's elementary students will have access to STEM Learning Boxes to explore more than just engineering skills.
The initiative involving mobile kits related to science, technology, engineering and mathematics, developed by the Ridge robotics team as its research component for the 2017 VEX IQ Challenge, is scheduled to be in place at all 18 public elementary schools this month, a release states.
Ridge Elementary fourth-grade teacher and robotics coordinator Lisa Anderson said Thursday offering the Learning Boxes provides all students with the opportunity to "build their self-esteem … and interest in science and math."
She said her robotics team created the project last year when they investigated at what age students become intimidated by STEM topics. "It's a fairly young age," she said.
Anderson said there will be hubs for media specialists to distribute the Learning Boxes in the north, central and south county schools.
Each Learning Box will contain enough robots for a classroom of 24 students, and will be shared among the elementary schools, the release continues. Working with their school media specialist, teachers will borrow boxes containing various types of robots. The same robot system can be used at any grade level and includes tools and resources to help teachers incorporate robots into the curriculum, the release continues.
Skills students learn using the Learning Boxes include "critical thinking, problem solving, communication and teamwork [and] are instrumental in the workforce," Karl Neddenien, Maryland community relations manager for Dominion Energy, said in the release. "The benefit of using robotics in the classroom goes well beyond the obvious skills of engineering and programming. … Robotics is the perfect way to teach all of these skills."
The community's future depends on how well-prepared the next generation is, and community partners "have invested in their promise," Superintendent Scott Smith said in the release.
Funding for the Learning Boxes was provided by joint contributions of the Ridge Elementary Robotics Team, The Patuxent Partnership and community sponsors such as Northrop Grumman, Raytheon, Dominion Energy, the Association of Old Crows Pax River Roost, and AVIAN LLC. Community partners contributed more than $16,000 in funding for robots and educational and training resources, according to the release.
"Support from our community partners and corporate leaders drives our system forward and keeps STEM education at the center of our work," Smith said. The "STEM For All" programs such as robotics, science fairs, Destination Imagination and others would not be possible without community support, he continued.
Providing robotics programs offers students the chance to get hands-on experience, Scott Stewart, Northrop Grumman's corporate lead executive for Naval Air Systems Command, said in the release. He said exposing students to STEM builds "skills and confidence in [the] most needed in government and industry. It is an investment in our county's future … We are very proud of these young engineers."
Developing a program based on shared resources will allow every student access to technology at minimal cost, Roger Budd, business development manager at the Raytheon Patuxent River field office, said in the release.
"Bringing this type of learning tool into our schools is" the right thing to offer students, Budd said. "We are excited to see what these kids will do with these resources."
Providing "STEM for All" is the organization's goal, Bonnie Green, The Patuxent Partnership executive director, said in the release. Having fifth-grade students "develop and implement such a creative initiative is evidence of the value of robotics in our schools," she continued. Being able to offer the initiative countywide is "a direct result of previous program investments [and] makes the reward even greater," she said.
The Patuxent Partnership, a local nonprofit agency dedicated to STEM education, workforce development, and technology transfer, assisted the students by managing the purchase and delivery process. The project's community sponsors are all members of The Patuxent Partnership.
Presented annually by the Robotics Education and Competition Foundation, the VEX IQ Challenge provide elementary and middle school students with hands-on robotics and research challenges. Teams have the opportunity to participate in regional, state, and global competitions, the release states.
The Ridge elementary team's work earned the attention of community and state leaders when they won at the local and state levels. The team formally presented the idea to a number of industry partners and members of the Maryland General Assembly at the Maryland State House, the release states.