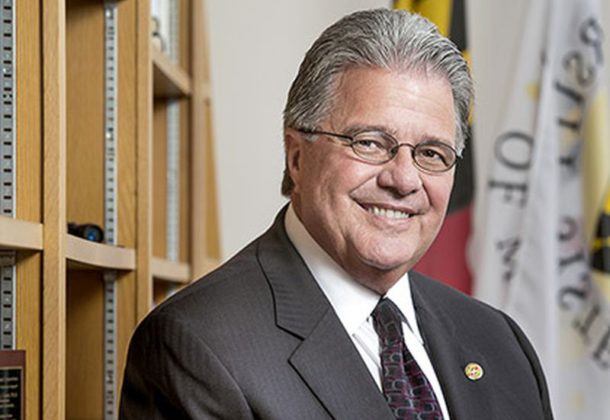 University System of Maryland Chancellor Robert Caret spoke at The Patuxent Partnership's all-day symposium on "Identifying Solutions to Warfighter Challenges through Technology and Innovation."
Professionals from Southern Maryland and the greater Washington, DC, region came together in late June for a day-long event hosted by The Patuxent Partnership, "Identifying Solutions to Warfighter Challenges through Technology and Innovation." With more than 140 attendees, the program featured speakers, panel discussions, and exhibitors to address ways to foster innovation, bring technology to commercialization, and cultivate out-of-the-box thinking to create products and technologies that have applicable use for the warfighter.
Dr. Robert Caret, Chancellor of the University System of Maryland, spoke on the array of industry and academia partnering within the university system, with increasing priority on technology transfer.
"There can be no economic development without education," he stated.
Maryland, he noted, consistently ranks among the top five states in the nation for innovation and entrepreneurship.
Even though the campuses were not historically designed for spawning entrepreneurial endeavors or for tech transfer, Dr. Caret said, that is often what grows from the varied campuses within the University System of Maryland. Today the university system includes three research campuses with seven business incubators, which have produced 1,400 inventions and spawned 500 new companies in the last five years.
The University System of Maryland currently consists of 12 campuses and two regional centers. It is hoped, Dr. Caret said, that the Southern Maryland Higher Education Center will become the system's third regional center.
"It's a very exciting time, to see our Southern Maryland presence expanding into the future," Dr. Caret said. "Where we go is only a matter of creativity."
A new 83,000-square-foot building is planned at the SMHEC campus. Half of the new building will be dedicated to major research on autonomous vehicles; the other half will serve educational and administrative functions. The effort is driven by the A. James Clark School of Engineering at the University of Maryland's College Park campus. The school also has a presence in Southern Maryland, through the University of Maryland UAS Test Site at the St. Mary's County Regional Airport, just next door to SMHEC.